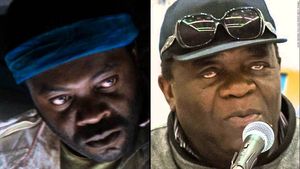 This will be the first in another blog series. I like having a place to reference things like this and add to them over time, and I figured why not make it public? So going down the line of all the actresses/actors from ALIEN, I'm going to start with all the videos I can find of Mr. Yaphet Kotto. There isn't a ton of Yaphet material, and none from 1979 that I've located yet. But I'll keep scouring...
"...they were saying one word..."
"I wrote a book about Jesus...it took me 20 years to write..."
"I've never auditioned for a role in my life."
NON ALIEN RELATED CLIPS
"I said 'Wow, that's  Sydney Portière!"
"Are you a tough guy?"
"Well...yes and no."
"I sort of let the situation blend out to where I go in life."
It's difficult to tell who's messing with who here...